Welcome to Parker Right Driving Academy, where 1000's of confident drivers have graduated. We operate in Tillsonburg and area since opening in 2014.
If you are ready for an excellent start to your driving future, we offer you experience, care, passion and professional dedication, with programs that you won't find elsewhere.
Earning a driver's licence is a privilege, that brings you mobility and freedom. However this comes with great responsibility for safety, of yourself and others on the roads.
When you select a driving school, choose one that gives you a valuable experience, to drive and to survive with skills that will last for a lifetime.
CALL US TO TAKE THE NEXT STEP TOWARD DRIVING INDEPENDENCE 519-983-8466
Combined Years of Experience
Professional Diriving Instructors
The staff of Parker Right Driving Academy is ready to start you on the road to becoming a confident driver.  We go beyond minimum requirements so our graduates are well prepared with life skills, to be safe every time they drive.
Lessons throughout Tillsonburg and area, graduating over

400 new drivers per year. 

Canadian Pro Driver certified instructors to professionally train all new drivers

Most students are referred by satisfied graduates or their parents

Instructor training is thorough; we teach proven step-by-step techniques
I have lived in Tillsonburg and the surrounding area since 1969. I attended Glendale and Annandale High Schools. Most of my family still lives in Tillsonburg. My Father taught at Glendale for 26 years. I made the decision to go back to school in 2009 and received my in-vehicle instructor's certification in March of 2009 from Centennial College.  Soon after, I returned to Humber College and received my in-classroom instructor's certification in January of 2010. I was employed as a driving instructor from then until 2014. I decided to open my own business since 2014.
I am a Mother of 2 children.   I have already been through the driver training process with my children. I am very passionate about my career and take it very seriously. I am thrilled by how much of an effect I have on so many students' lives. I am rewarded daily, with stories relayed back to me from my students and how much I changed or helped them with their driving and their future.
I look forward to working with many more students of all ages.  I am always excited to pass on my knowledge and experience with defensive driving skills and safe driving and control techniques.
Meet Mark!  
A dedicated driving instructor with a passion for helping students in his community. After a fulfilling professional life as a manufacturing production supervisor, Mark decided to embark on a second career in driving instruction. Born and raised in this very community, he felt a deep connection to the people and wanted to contribute positively by imparting safe driving skills to the next generation. Mark's diverse skill set includes a motorcycle license, prior experience as a class A driver, and even a private pilot's license, making him a well-rounded instructor capable of teaching a wide range of driving techniques. Now semi-retired, he brings a wealth of knowledge and a patient, friendly demeanor to his driving lessons, ensuring that each student becomes a confident and responsible driver. 
I am a previous School Bus Driver who received my driving instruction and Defensive Driver Training through Laidlaw's fleet-training courses, and who worked for two school bus companies over a period of seven years.
My next step in the transportation industry was working as a Driver Examiner for DriveTest. The experience I gained there led me to feel that I would rather help people learn to drive instead of merely examining their abilities.
As of 2023, I graduated from Canadian Pro Driver's In-Car Driving Instructor Course hosted by Fanshawe College. As the daughter of two talented teachers, I hope to imitate my parents' examples and use my schooling and professional experience to provide methodical, knowledgeable, and calm instruction so that students can comfortably build on their driving abilities, knowledge, and confidence.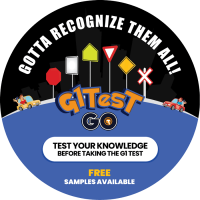 Once you acquire the knowledge provided in those tests, you are ready to pass the test, the first time.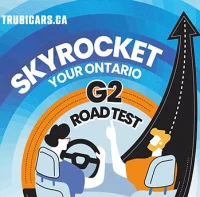 This course is designed to give you detailed knowledge of the G2 road test criteria that DriveTest examiners utilize during a G2 road test in Ontario.