Welcome to Parker Right Driving Academy, where 1000's of confident drivers have graduated. We operate in Tillsonburg and area since opening in 2014.
If you are ready for an excellent start to your driving future, we offer you experience, care, passion and professional dedication, with programs that you won't find elsewhere.
Earning a driver's licence is a privilege, that brings you mobility and freedom. However this comes with great responsibility for safety, of yourself and others on the roads.
When you select a driving school, choose one that gives you a valuable experience, to drive and to survive with skills that will last for a lifetime.
CALL US TO TAKE THE NEXT STEP TOWARD DRIVING INDEPENDENCE 519-983-8466
Combined Years of Experience
Professional Diriving Instructors
The staff of Parker Right Driving Academy is ready to start you on the road to becoming a confident driver.  We go beyond minimum requirements so our graduates are well prepared with life skills, to be safe every time they drive.
Lessons throughout Tillsonburg and area, graduating over

400 new drivers per year. 

Canadian Pro Driver certified instructors to professionally train all new drivers

Most students are referred by satisfied graduates or their parents

Instructor training is thorough; we teach proven step-by-step techniques
I have lived in Tillsonburg and area since 1969. I attended Glendale and Annandale High Schools. Most of my family still lives in Tillsonburg. My Father taught at Glendale for 26 years. I made the decision to go back to school in 2009 and received my in-vehicle instructor's certification in March of 2009 from Centennial College. Then I returned to Humber College and received my in-classroom instructor's certification in January of 2010. I was employed as a driving instructor from then until 2014. I decided to open my own business since 2014.
I am a Mother of 2 children.  I have already been through the driver training process with my children. I am very passionate about my career and take it very seriously. I am thrilled by how much of an effect I have on so many students' lives. I am rewarded daily, with stories relayed back to me from my students and how much I changed or helped them with their driving and their future.
I look forward to working with many more students of all ages. I am always excited to passing on my knowledge and experience with defensive driving skills and safe driving and control techniques.
In-Car / In-Class Instructor
In 2008 I moved to the Tillsonburg area from Bancroft with my husband who was born and raised in the Tillsonburg area. I attended Canadore College in North Bay for Police Foundations, I was in law enforcement for 7 years before joining the Parker Right team in 2016. I became a in-vehicle instructor and then received my in-classroom instructor's certification in 2018.

MASKING FOR IN-CAR LESSONS IS STILL 100% MANDATORY, ZERO EXCEPTIONS!!
Thank you for your understanding!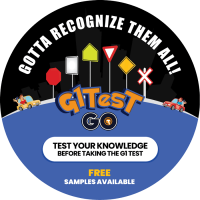 Once you acquire the knowledge provided in those tests, you are ready to pass the test, the first time.